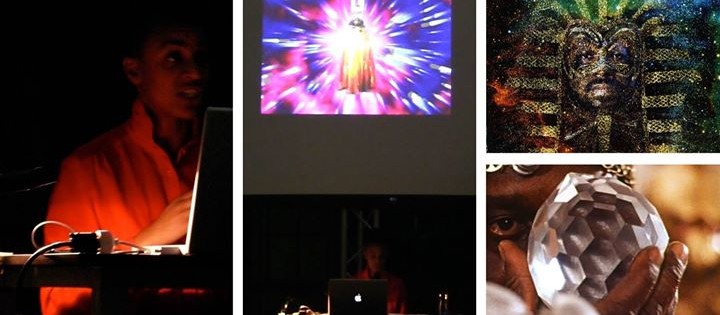 Kapwani Kiwanga – Afrogalactica / Nástio Mosquito – S.E.F.A.
Kapwani Kiwanga – Afrogalactica / Nástio Mosquito – S.E.F.A.
start 2015-03-14 @ 19:00
end 2015-03-14 @ 21:00
locationKunstencentrum Vooruit in Gent
KAPWANI KIWANGA – Afrogalactica – a short history of the future
19:00 Domzaal
Zal de toekomst Afrikaans zijn?
Kapwani Kiwanga zakt af naar Vooruit als antropologe uit de toekomst. Ze kijkt terug op het ontstaan van the United States of Africa en het Afrikaans agentschap voor ruimtevaart, dat in 2100 verschillende uitvalsbasissen telt, verspreid over heel Afrika. Op hun missies stuurden ze al heel wat Afronauten de ruimte in.
Kiwanga vermengt archiefmateriaal met science fi ction, afrofuturisme en antikolonialisme. Als video- en documentairemaakster heeft ze nominaties op zak voor de prestigieuze BAFTA's en toonde ze haar werk o.a. in Glasgow, Kassel en Centre Pompidou in Parijs.
NÁSTIO MOSQUITO – S.E.F.A.
20:00 Domzaal
Identiteit, maatschappij, humor en vooral "no bullshit"
Nástio Mosquito (een Angolese Gentenaar) is een beeldend kunstenaar, performer, muzikant, schrijver, poëet en provocateur die schuilgaat onder verschillende artiestennamen (Nastiá, Saco, Cucumber Slice, Zura Zuara, …). In 'S.E.F.A.' (kort voor "se eu fosse Angolano" of "als ik Angolees zou zijn") kaart hij hevige kwesties aan rond identiteit, maatschappij, naties, geloof en burgerschap. En dat doet hij met verbetenheid, maar ook hoop, de nodige humor en vooral een 'no bullshit'-attitude.
info & tickets:
http://impossiblefutures.be/nl/programma/14-03/double_bill