Charlie goes to burning man
31/07/14
The beginning of the summer is always a good moment to spread some beauty, dixit Jan Beddegenoots, so he did exactly that with his, first of a kind in Antwerp, walking pop up art expo.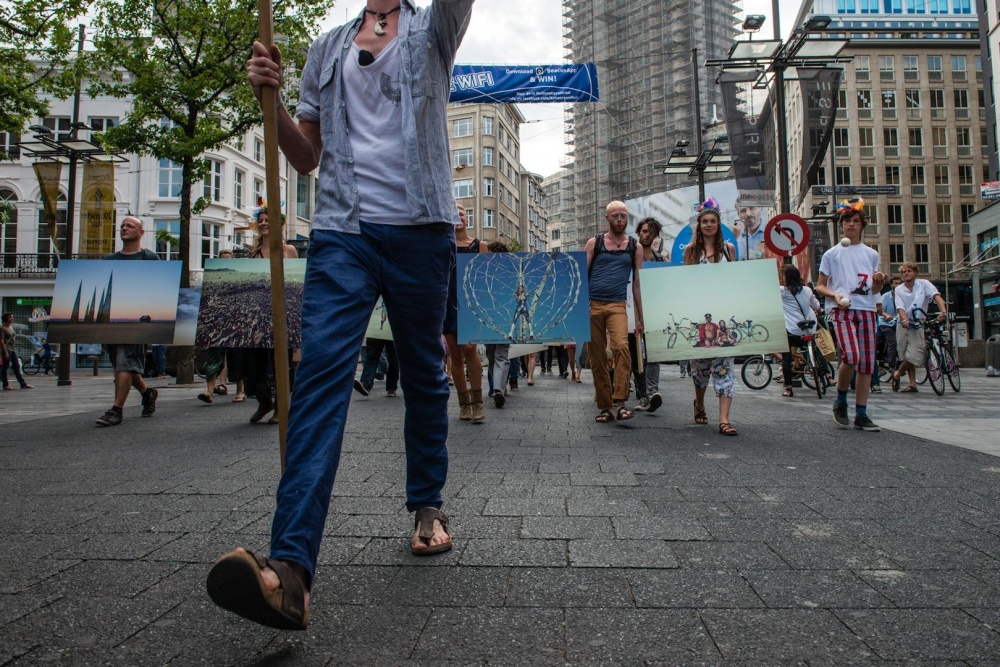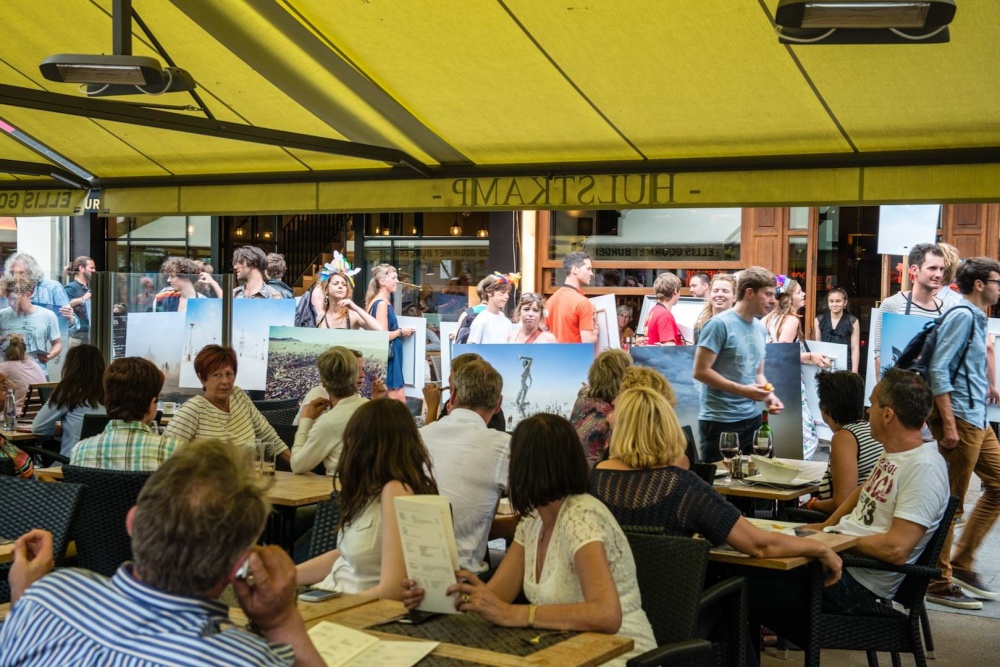 On the 4th of july, a colorful parade of people holding large scale pictures of the Burning man festival (Nevada, USA), took to the streets, accompanied by a fanfare. This joyful bunch of artists was on it's way to the Spiegeltent, to expose pictures made by 4 different photographers and to present a short documentary made by Jan Beddegenoots called Charlie goes to burning man.
Upon arrival at the spiegeltent I was welcomed by music of Johannes Veschaeve (The van Jets) after which the short documentary was presented.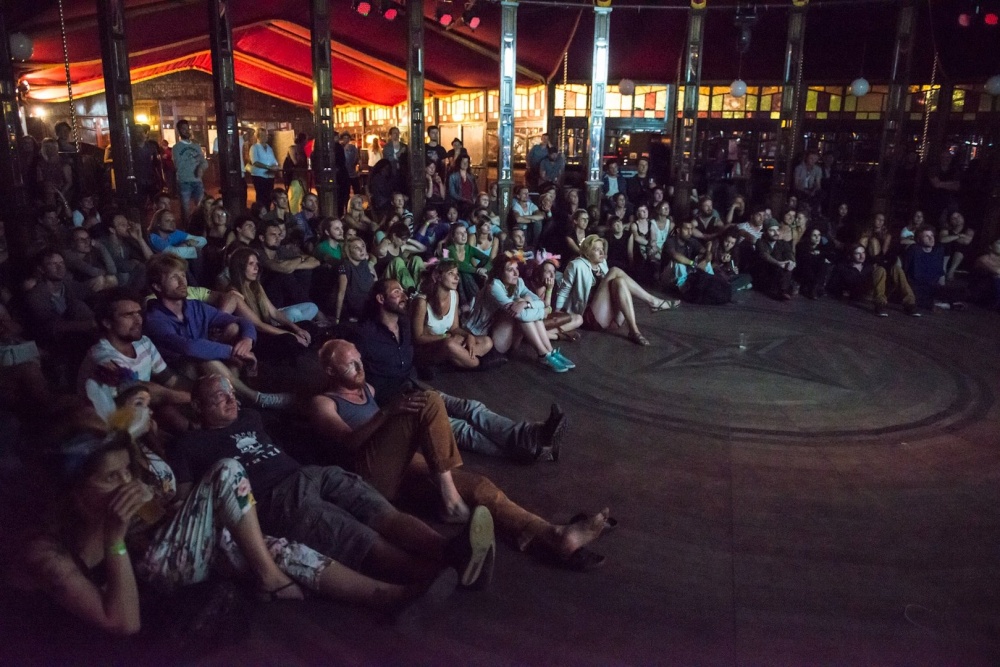 " Charlie is an 81-year-old media professor from New York who is recovering from bone marrow cancer and a major open-heart surgery. He decides to go to the Burning Man festival – mentally and physically the most challenging festival in the world – in the middle of the Nevada desert.  "
I will not spoil too much because it's definitely a must see docu, however i can say this : if you've never been to burning man, you will for sure want to go after witnessing how Charlie is amazed to discover an atmosphere he thought never existed.


It's heartwarming to see how Charlie Warner is completely flabbergasted by the magical, creative and spiritual vibe that is so charasteristic for Burning Man. How he, an old man, took the chance to finally meet himself for real, for the first time in his long life.
After the short documentary, Jan thanked all the involved people for their input and announced the take-off for a space party. Especially the progressive beats of Bruno Cruz (Oriental Electronics) and the jazar crew of from Palestine were much appreciated by yours truly.
Another fresh iniative by Jan Beddegenoots, who after 'the taste of freedom' & 'thank god it's friday' delivers again with this original way of bringing culture to our city.
Long live charlie, and may the the spirit of burning man conquer the world!
Pictures by :
- Scot London ( San Fransisco) : http://www.scottlondon.com/photography/
- Gaby Thijsse ( Amsterdam ) http://www.gabythijsse.com/
- Thomas Dorn ( Paris ): http://www.thomasdorn.com/
- Jan Beddegenoodts ( Antwerp) : http://www.janbeddegenoodts.com/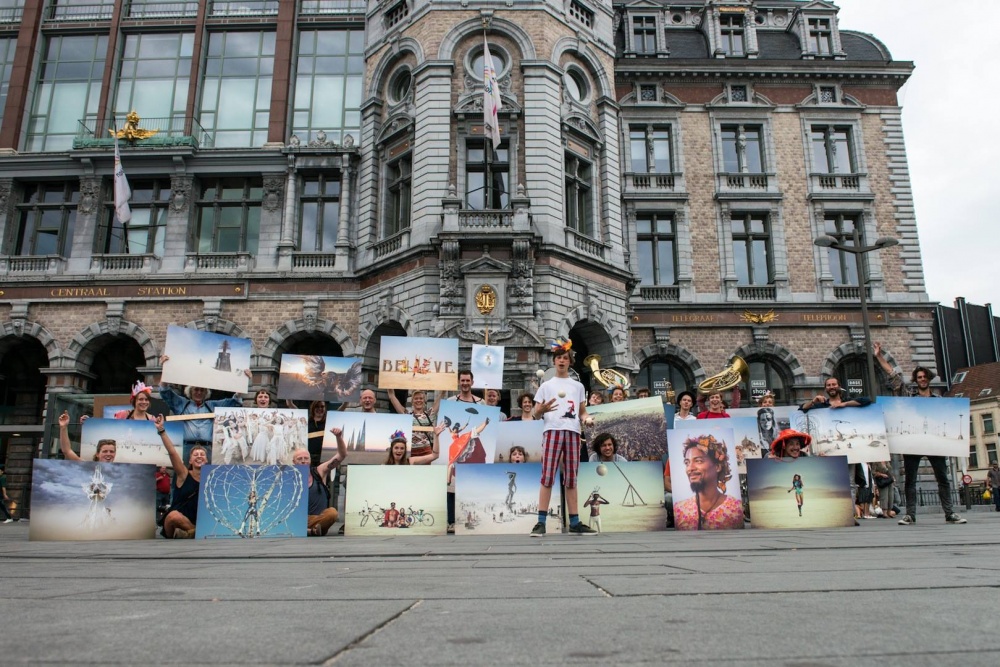 dj-sets by :
⁃    fumtek & miss schwarzkopf
⁃    Tigers of the West ( Sex funk Space Rock) Antwerp
⁃    Miyaguy ( Sunday matinee / SEazons )
⁃    Bruno Cruz ( Oriental Electronics) Haifa Palestine
⁃    Sunday Matinee All Stars: Arne, Calvache Delbaen, Joachim
⁃    Jazar Crew Palestine
⁃
http://charliegoestoburningman.com/#!expo
Written by Dennis Lauwers
Charlie goes to burning man

,
IN MOVEMENT
IN SOUND
Open in popup