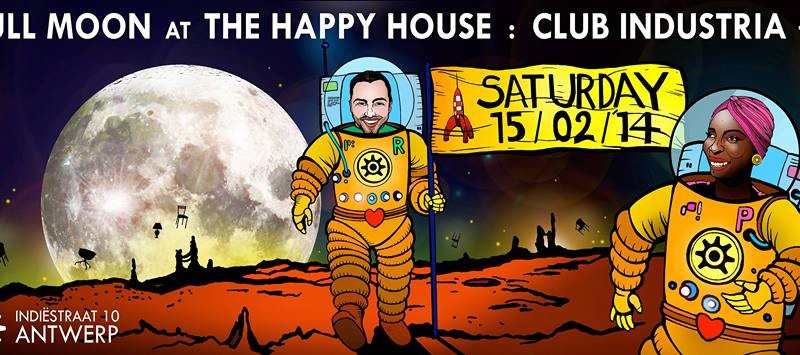 CLUB INDUSTRIA – F U L L . M O O N . A T . T H E . H A P P Y . H O U S E
13/02/14
Come and celebrate full (fool) moon together with the other lunatics in Industria on Saturday!
There is a good vibe going on in Industria. A new team of enthusiastic people are organizing good quality parties with good quality people. Everybody is welcome, if you have respect and want to have fun, come on over cause it's party time.
On the menu this Saturday is the all-Belgian crew: Guy-Ohm (https://soundcloud.com/guy-ohm), Rafi Khan (https://soundcloud.com/dj-rafi-khan) and Akira (https://soundcloud.com/akiras).
The parties are being organized by a group of friends, 'one big happy family'. They all share their talents to make these awesome parties. There is a lot of love, fun and cosines going on. "We don't aim for a special target audience," Javier, one of the organizers, explains. Javier and Bill Gestels, the owner of Club Industria, want everybody to feel welcome and at home to make a great party.
This idea is also being helped by the style of the music. Javier: "We don't want to go to radical, we want music that is understandable for as much people possible. House is the base of our sound."  The sound is being supported by the new sound system 'Void' in Industria. Come over and check it out! The damage is 10 euro.
Link to the party:
https://www.facebook.com/events/634758476585553/
By Tine Wilberts
CLUB INDUSTRIA - F U L L . M O O N . A T . T H E . H A P P Y . H O U S E,