Insight – outside: Tuupe Open Air
06/08/13
Tuupe Open Air
As you might have heard or felt already, there is a new wind blowing through the old industrial docks in Ghent. A fresh idea-turned-into-reality which goes by the name of TUUPE.
'What's that? Quite a strange name' you might think.. but when you learn that "tuupe" is a Ghent dialect word which simply means "together" it starts to make a little bit more sense.. Tuupe is all about getting people together to experience interesting moments and let them discover some new visual and auditory frequencies. Place them in a sort of an adult playground you might say.. and all this in an old industrial environment. Sounds interesting.
We from Chilli Out had the opportunity to speak with some of the initiators of the Tuupe-concept. At home in the backyard of their recently acquired (but sadly, rented) 60′s-style villa Jonas (Van Weerst) and Oscar (De Laender) speak out. These the two gents are half of the driving force behind the concept.
CO: So, tell me a bit more about Tuupe's genesis. Where and how sprouted the idea?
Yonas: Well, it actually all started out when one of us 'discovered' the location. Hannes (Proot), a long-time friend of ours, picked up on the fact that our beloved city Ghent had decided that the old gravel containers -which are part of the old industrial docks of Ghent- were to be restored and opened to the public. The city was looking for people or organizations that were willing to organize events at that location, which they could use for free.
: Karel (Verplaetse), some other weirdo we know, had been toying with the idea to bring art, music, other creativeness and people together somehow, but was until then lacking a suitable location. Being close friends, Karel and Hannes put two and two together; talked to us about the idea and the four of us got started pretty quickly from then on.
Yonas: Luckily, we were one of the first to contact the city council with our idea. The people responsible for the city and the AG SOB (Stadsontwikkelings Bedrijf Gent) were enthusiastic as well and gave us the green light.
CO: Apparently, it wasn't that hard to persuade the city into giving you permission?
Yonas: The thing is that the area were these containers are situated is going to be part of a new urbanization-project which is planned now for the old docks. New houses and apartments, offices and parks will be sprouting out the ground there in a few years. It all looks quite nice on the plans, but the city wants to make sure it will also become a vibrant, lively new part of town. Therefore, they are already welcoming projects as this one through a collective called Smoke & Dust, which tries to give a new creative destination to the old industrial sites that remain there.
CO: A bit more about the concept itself. What can people expect when they visit Tuupe?
Oscar: Well, for our latest edition which took place during the Ghent Festival (Gentse Feesten) on the 20th of july, we were able to persuade the guys from FCL (short for 'FC Leiejongens', aka Red D & San Soda) to play at our little get-together. Which wasn't that easy, because we had to do it through a contest they wrote out, so we were very happy with that one.
Yonas: But Tuupe is mostly about giving young guys and girls a platform to do their thing, so we always try to plan some local talents.  So far we've had dj's like Koodoo, Küken, Klank Bahn,… and even the guy sitting right next to me, Oscar himself.
Oscar (smiling rather smug): Quite the legendary set that was, I'd say!
Yonas: Art-wise we've had some internationally acclaimed street artists such as Blue The Warrior, accompanied by his fellow Ghent-based-but-well-known-across-the-borders brother in arms Sam Scarpulla. Both brought us some fresh new works.
Oscar: And for our next editions on the 31st of August and the 29th of September, we've got some very exciting ideas too. I can't reveal too much about that yet, but let's say we met a lovely family that will get us all in the right mood.
Suddenly, someone wearing a blue and white football shirt arrives, enters the yard and yells out "BUFFALOOOOW!!!", making a quite abrupt ending to our little interview.. Yes, these people are true 'Ghentians' (red: people from Ghent). And what does a true Ghentian do? Support their local football team which is playing in one hours time, off course..
CO: Owkay Guys, I'll leave you to it. Thank you very much for your time. Enjoy the football-game and we will see each other soon at Tuupe!
Written by D. Letho
Insight - outside: Tuupe Open Air

,
IN MOVEMENT
IN SOUND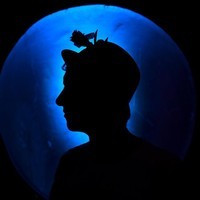 Open in popup