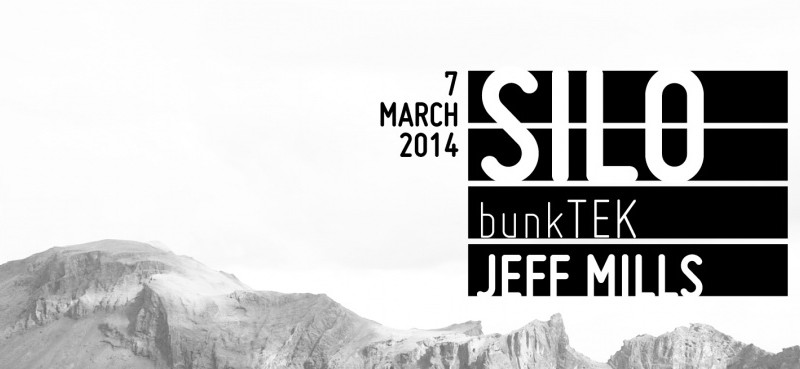 A nightly escapade with Silo & Buntek
23/03/14
Two weeks ago, techno lover's impatience was finally rewarded; the master of techno, Jeff Mills, was in Brussels. And as if that wasn't enough, he brought some friends.
Luke Slater came to introduce his new project L.B Dub Corp, and new Belgian stars, Tomaz and Kriz completed the line-up.
The night opened with Tomaz. As usual, his warm-up was clear and motivated. It's like he sensed what clubbers had come for, and played tracks they really wanted to hear. Tours & Taxis slowly started to fill up, and as people started to get their bearings, Tomaz continued to build up expectations for the rest of the night.
Luke Slater was up next. The L.B Dub Corp was clean, no mistakes whatsoever. Clubbers minds were going crazy at this point. His techno was so full of energy, and the audience received it thankfully. The tracks he played were perfectly mixed, proving the fact that he is a well deserved member of the techno-dj elite.
Tours & Taxis was burning, minds were flying and smiles were permanently posted on everybody's face!
Now, the time was due to hear the lord of Detroit techno; Jeff Mills. The Wizzard was in a really good mood. This guy has been around for so long, and yet he can never be accused of being old-fashioned. The many unreleased tracks he played were proof and techno experts were truly treated!
The mood was severely dampened though, by  the event that went down next. While Jeff was starting his TR-909, some disappointing member of the audience threw a glass of beer over him. It's such a shame this happened because this is so out of character for the Belgian audience! Jeff was close to leaving, but after a few minutes of negociation with the staff, he started to play again. Sadly his set lacked the same motivation it had started out with, but luckily, after being urged on by the audience showing their appreciation,  the end of his set was full of energy again. He closed the set with the famous «The Bells», and Tours & Taxis ignited!
Kriz had the honourable job of closing the party and as usual, he did it with ease! He played heavy techno, and we can now say, without a doubt, that Belgian parties have it's new handler. His sound was really heavy, and his selection of tracks defined and clever.
Inevetebly Kriz concluded his set, and so another amazing and eventful night came to an end, so very much to our dismay!
By Celia CadranWith the help of Fiona Snow as a Grammar Nazi!!
Read previous escapade at Silo with Ben Klock  here.
A nightly escapade with Silo & Buntek

,