Steve Locatelli: Art Dealer
01/06/14
Steve Locatelli, currently one of the most well-known streetartists in Belgium, has been working his magic since the nineties. You can find his amazing artwork on walls and buildings throughout Belgium and Europe. He owns a graffiti-shop called Artifex in Antwerp, where you can find everything you need to express yourself in a creative way!
Chilli Out had the pleasure to interview this amazing artist at his gallery (street art gallery artifex).
http://www.graffitishopartifex.be/
http://www.artifexgallery.be/
How did it all start for you?
I started with spray-painting in Brussels at the age of 14, where I witnessed the beginning of graffiti.
I immediately grew fond of this mystic style, which brought a lot of interaction between artists and was carried out with great originality. You could say I am a second generation graffiti-artist.
Back then, I used to work alone because I didn't know anybody else who was doing graffiti. After a while I started to drag along friends, I wanted to include them in what I was doing. It was only after a couple of years that I started to get closer to people who were as passionate about graffiti as I was.
Were you ever part of a crew?
Yes, my crew was called X crew, which was very international, with members from the UK, France, Germany, Switzerland. We used to have annual meetings in Belgium or The Netherlands, where we made productions together. This was a lot of fun of course, however as I grew older, I felt the need to express myself more individually.
What inspires you?
Every day life for sure. I find a city as Antwerp to be a stimulating environment for me to work in. Cities offer a lot of incentives, however nature can also be very inspiring. In nature I can recharge my batteries and find peace.
Everything in life can inspire me, also other artists' work, for example when I see their use of color or the magnitude of their work. I am always thinking about my next piece of art.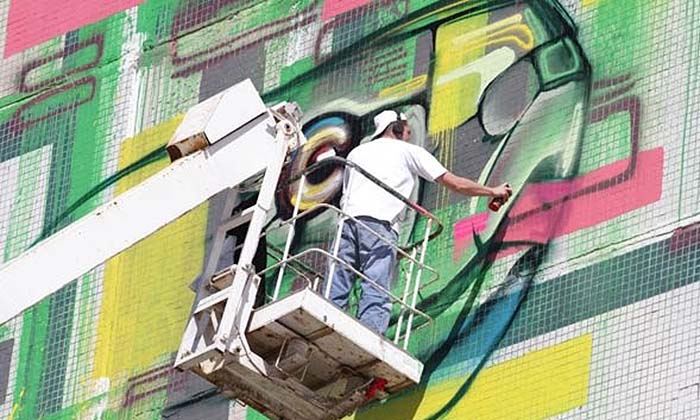 How do you like to work?
I like to use my headphones while working, so I can create a cocoon for myself. I need this because It helps me to focus on what I'm doing without any distraction.
Which way of working do you prefer? Inside or outside? On walls or on canvas?
It varies. In the summer I like to work outside in the sun. In the winter I can really enjoy to be in my atelier with all my material nearby.
When I go out to do a wall somewhere, it's more in a rush. Often I have to meet a deadline, the work has to be finished before darkness falls. There is more pressure this way.
In my atelier I can work more relaxed, with a greater eye for detail. I only started to do canvases in 2007. I would never have thought I would be doing this when I was younger. Street art is slowly but surely being accepted by the art world and is claiming its rightful place in contemporary art, so why not be a part of it?
At the beginning of this year you exhibited your art at the Artifex Gallery. Nowadays street art is more and more accepted as a 'real' form of art. Do you sometimes feel nostalgic about the days when you were working illegally on the streets?
I agree that street art is being accepted more and more as a real form of art, however this is mainly by the general public.
I mean, the art world still treats street artists a bit as inferior. They say, street art belongs in the streets, not in galleries. I get that, but sometimes those street artists also do art on canvas and I think it can be at least as powerful as more accepted art.
In Belgium, the art world remains a bit skeptical about street art in galleries, probably because it's an evolution that has only just begun. For us street artists, it will be a struggle to prove we belong in galleries too.
The only thing I miss about the good old days, is the 'band of brothers' – feeling that comes with doing illegal street art. You can compare it with being in the army, when you go out on a mission you have to be able to rely on your friends. You all work together to make it happen.
You used to work only in the streets, now you exhibit also in galleries. Can you explain this evolution? How did you find yourself in the gallery?
It's my goal to provide a sufficient income with my art, that's why I also give workshops to children. I try to make graffiti more accessible for everyone.
I've also done advertising campaigns in the past. Some purists blamed me for being too commercial, but I see that the ones who were first to point the finger, are doing more commercial work now themselves. And that's ok. In the end, a lot of street artists want to generate an income with their art.
I evolved into the gallery partly because of my wife, she takes care of the business side of our gallery so I can focus more on the practical side. I am a bit nonchalant, so it helps me a lot when someone gives me the structure that I need. We've been working together for nearly 10 years now. Without her input, I would never have been able to start my own gallery.
So if I understand correctly, you are doing it alone?
Yes, at the moment that's true. I get a lot of invitations for exhibitions abroad, which has made me realize that if it's possible to get street artists into a gallery over there, it should also be possible here.
Can you explain to our readers what the difference is between graffiti and street art?
In the past, different names have been used. Graffiti is known by most for its creative use of letters and tags. Then you have urban art, with muralists who use spray paint to cover walls. This is what I do. After that Banksy became very famous with his conceptual art, with many copycats as a result.  This style was named street art. I like this name, it sounds better and is more respectable.
Street art is more conceptual, it responds more to its surroundings in the street and often has a message, while graffiti is more restricted to typesetting with spray paint. Street artists also use things like stickers, stencils and posters.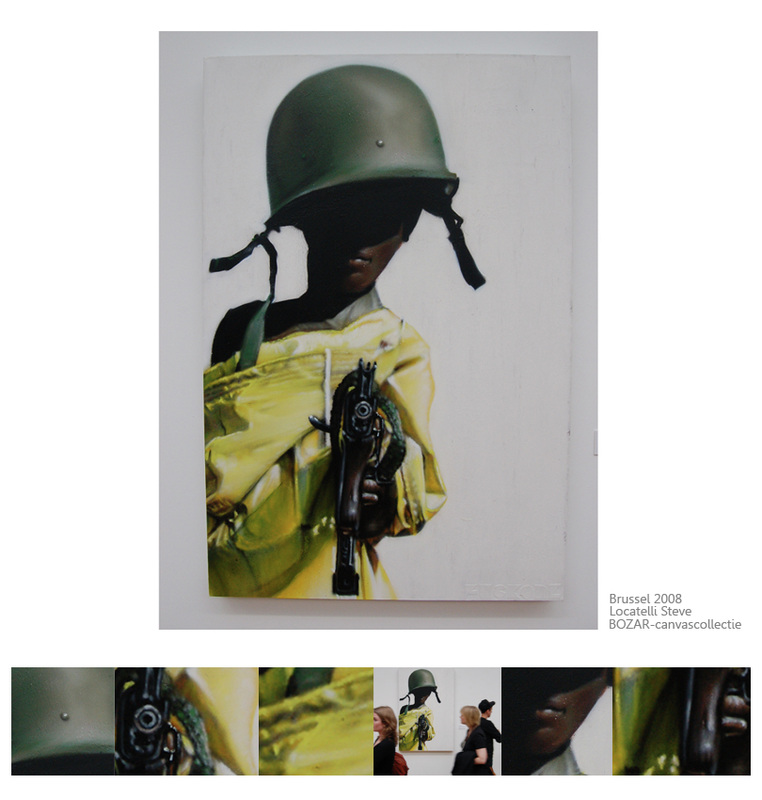 In some cities street art is very visible (for example Berlin, Montreal, ..). In Antwerp there is a slow but sure increase of street art. Initiatives like Day One Festival are very helpful in making this happen. Please keep up the good work to make the city more attractive! Are there any specific buildings or places in Antwerp or Belgium you would love to spray?
In the past, Barcelona and Paris were the places to be for street artists, but they cleaned up those cities and the tolerance towards street art diminished. The scene moved to Berlin, a more alternative city, where street artists became very productive, you can find an exhibition there almost every day now.
I really like festivals like Day One, where they give the artists carte blanche, it always results in something powerful. When street artists get an assignment for doing a piece for their city, they often get a certain theme to take into account. I get that, locals want to be sure the art work is fitting for their surroundings. However, when you get carte blanche, the artist will always take this into consideration. More freedom of choice will always result in a more powerful piece of art.
On Day One, every artist was free to do what he or she desired, the result is amazing. Let's hope this can be a good example for the future.
I used to live in Brussels, then moved to Kortrijk, then to Aalst, then to Gent and am currently living in Antwerp. Along the highways you can see these big factories. It's been a life-long dream to completely cover one of these factory walls. Ok, it would be expensive, but I think those big companies should be able to fund such an endeavor. Why wouldn't companies be interested in displaying or customizing their factory walls?
Also in Antwerp there are so many dead walls, it would be cool if artists could get permission to use them. An artist like Klaas Van der Linden for example, why not give him the opportunity to use a wall in the center of the city, where everybody can see his work? It would be a cultural boost for Antwerp and an extra for tourists.
I like to work with monumental buildings. Once, I got the chance to cover that big white silo at Park Spoor Noord. Unfortunately this is a classified building, so they had to remove my work. But these kinds of buildings are perfect for me. Wouldn't it be more attractive to see art on a building like that instead of an advertisement ?
Yes, I agree completely. My next question is: Which artists do you admire?
I was born on the same day as René Magritte, he inspired me a lot. He was from Belgium, from Brussels too, and was always progressive, with lots of individuality. This is something I also want to pursue.
What do you want to do in the future?
I want to keep working in my gallery and hopefully continue to make a living out of it. I want to push it forward and show people street art doesn't only have to be a hobby.
I also want to keep giving workshops. The children who attend them inspire me a lot. They are so impulsive with the colors, they just do things spontaneously, without thinking. I really like that. They look up to me and I don't mind being a role model for them. I enjoy that I can give them some purpose, a goal to work to, so they don't have to be on the streets all the time.
Does your street art have a message? Is there a political aspect to it?
I used to make art with a political touch but I stopped doing that, I'm fed up with all the discussions that come along with it.
Now I focus on the visual side of my work, that's why I call it visual art. I think most people appreciate this visual focus, my use of color and the narrative of my art work. I want to pursue this more.
End of 2013 I did a solo exhibition about 'Zinneke' (in Artifex gallery, opening  7 & 8 December). Zinnekes are street dogs, bastards, which they used to throw in the river after they were caught. I sometimes feel like a zinneke, because I've moved so much. That's why I want to do a series about dogs, and also because I love dogs.
I'm 100% autodidact and learned a lot about art from friends who did art school, so now I try to work in a more mature way than I did in the past, less chaotic.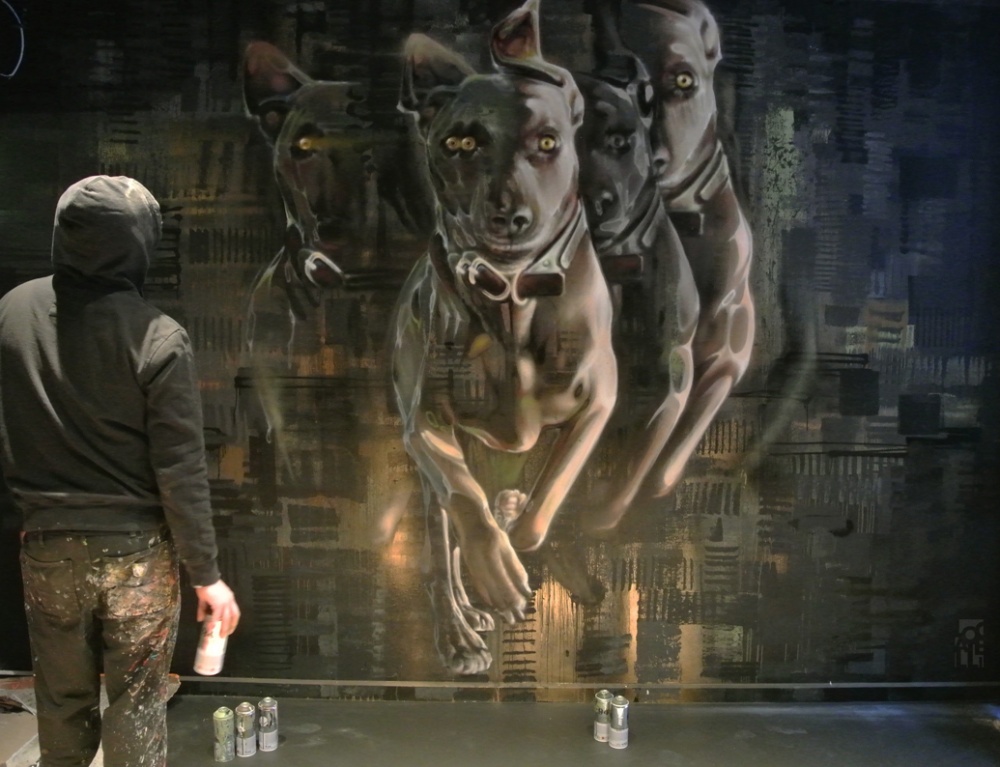 Can you give some tips for beginning graffiti writers / street artists?
Never give up, don't let others bring you down. Follow your passion! In my workshops I always point out the importance of a black book. This helps you to see the evolution in your work clearly, which motivates you to carry on.
Recently you were asked to act in a promo video for Chilli Out. How did you like that?
Normally I am a bit shy, I don't really like being the centre of attention. It was also the first time I tried to act, so in the beginning it felt a bit weird, especially because in the video I had to seduce another girl, flirt with her. Finally I think it went well, I enjoyed the experience.
What is your opinion of Chilli Out?
I really like the concept and think JB is the right man in the right place. After hearing his story I feel he has the perfect background  for managing this project. He doesn't only focus on parties and music but also on culture, and this I can only welcome.
I think it's a very complete concept as well as original. I haven't seen a similar concept in Belgium before.
Interview By Dennis Lauwers
Steve Locatelli: Art Dealer

,