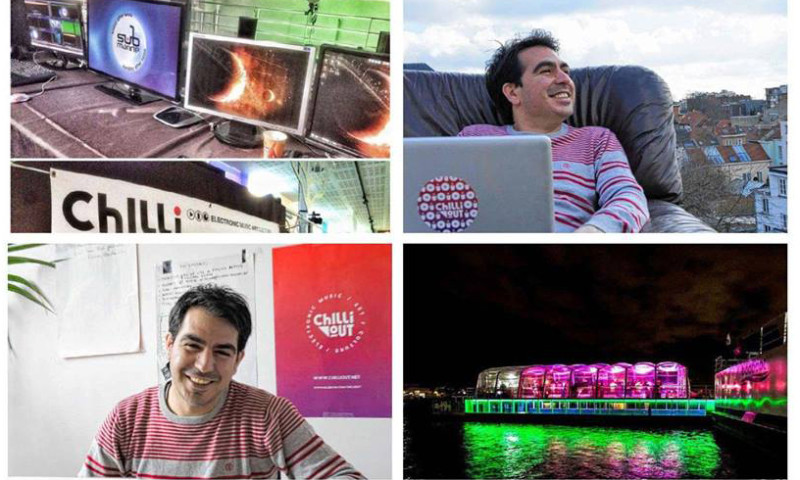 The Chilli Out Story in the Gazette!!
06/03/14
In August 2013, Jean-Baptiste Saraiva started with the website "Chilli Out", a site on urban culture and electronic music. He's looking for volunteers that are interested to fill up the content of the website.
Do you feel an urge to write, to make pictures or videos about art, music or culture that are alive in cities, then here's your chance. "The idea of Chilliout has found its roots about 4 years ago, when I lived in Barcelona", Jean-Baptiste tells us. Friends of him had a magazine on urban culture and electronic music, and he would commence the digital version of it. He started with plotting a business plan, when he got the offering to tour with Cirque Du Soleil. This project was put "on hold", but was still breeding in his head. Jean-Baptiste arrived in Belgium – he himself is a French guy – and he founded this the ideal country to start with his project. "The big cities like Luik, Brussels,  Ghent and Antwerp, aren't far away from each other, that's why I decided to live in Brussels and to start with Chilli Out."
He had been seeking contact with the big promoters of parties in Belgium and started to expand his network. Thomas Wiese, who is living in Antwerp, is the web designer. Together with Sander Buijs, they are forming the driving power behind Chilliout. And this way, Chilli Out was born in August of past year. Of course a lot of photographers, journalists and videographers are involved to keep the website turning.
Chiller Room is a project that is very much alike with the Berlin version of 'Boiler Room".  How it works is pretty simple: the deejay and a part of the audience are filmed on a party. This footage is streaming or airing live on the website. "Submarine", on the Badboot, is a monthly party that Is organized by Chilli Out together with Feestgedruis, a party collective from Ghent. Three cameras are positioned, and the party is airing live on the website.
"We mix music together with a little bit of sports, on the exquisite location delivered by the Badboot", JB tells us. "Last time we had a real curling game organized on the ice track. " The party has been streamed by more than 2000 people around the world.
They have planned some fun things before the summer. The next  "Submarine" will be taking place on March 16th.
Chilli Out informs about electronic music and parties, gives good hints and lets us look inside. Jean-Baptiste is eager to expand the site. He wants Chilli Out to become a platform about everything that you can experience in a city.  To expand his website and guarantee a constant flow of information he's searching for more journalists. "I invite everyone to take part in the growth of Chilli Out. Every idea will be more than welcome!"
By Tine Wilberts
The Chilli Out Story in the Gazette!!

,